In the Kanyama compound of Lusaka, the People's Process on Housing and Poverty in Zambia (PPHPZ) with support from Slum Dwellers International (SDI) under the Voices for Just Climate Action (VCA) is engaging with the Kanyama Women's Federation to co-produce climate solutions rooted in grassroots knowledge and experience. Through these engagements and interactions, the women are now leading the way in sack gardening, organic manure making, liquid fertiliser production and initiatives such savings groups among other green innovative and sustainable climate change solutions aimed at empowering women with the skills and knowledge to respond to food insecurity and malnutrition.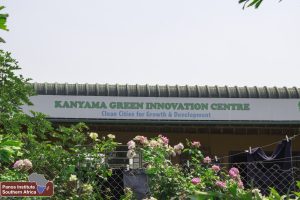 Kanyama Green Innovation Centre in Lusaka's Kanyama Compound. 
Panos Institute Southern Africa visited and interacted with the Women's Federation at Kanyama Green Innovation Centre to appreciate the community innovations and climate-responsive practices the members are involved in and the difference these practices have made in their economic well-being.