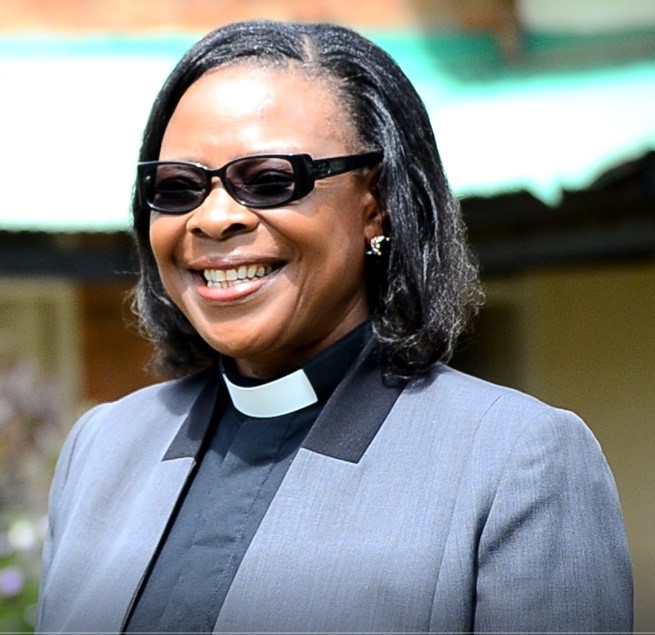 Rev. Matale challenges women leaders as she retires after decade of setting an example
By Vusumuzi Sifile
As Reverend Dr. Suzanne Matale steps down as the General Secretary of the Council of Churches of Zambia (CCZ), she reflects on a decade promoting justice, fairness and equality.
"Coming here was not the easiest of things," she recalled. "People judged me purely because I was a woman, instead of my ability to do the job. This to me reflected the church being very patriarchal. To this day there are some churches who do not believe that a woman can be clergy. I knew that I had to perform, I knew that I had to deliver, I knew that I had to work well with the people."
While her tenure was challenged from the very beginning, it was never a question of her competence. Ten years ago, Rev. Matale outperformed 13 other candidates – all of them men – only for the appointing authorities to decide the position of CCZ General Secretary was too important to be held by a woman.
The job was re-advertised with the hope of getting a better, male candidate. But the powers that be were in for another rude awakening.
"I went for interviews the second time. This time it was a different panel, but they still felt I was better than the other eight candidates – all of them male, and recommended that I be given the opportunity," said Rev. Matale.
And so began Rev. Matale's journey as General Secretary of CCZ, from 2007 to 2017. From the onset, she went through many trials.
Emerging from the bruising selection process, she found an organisation struggling with funding of projects and operational costs. But under her stewardship, CCZ "was able to rise above the waters", and implemented activities that positioned CCZ as a leader in advocacy in issues of good governance, women's empowerment, lack of accountability in the extractive industries, pollution issues, and displacement of people. Under her leadership, the CCZ also set the agenda that contributed to the increased number of women in leadership in churches.
In her words: "There were some churches that did not believe in the ministry of women. Through dialogue, through negotiation and through my own example, we now have very few churches still hanging on to the dear old doctrine of no women in the pulpit." Although there are still some churches struggling with having women as clergy, Rev. Matale thinks "doors have been opened for women to be theologically trained and to be ordained, and now some of them are running their own congregations". Through CCZ efforts, "a number of women have made it to the position of Bishops in the church".
Her challenge to fellow women in leadership is this: speak less and work more, setting an example for other women.
"Sometimes you don't have to say anything. You can change situations by simply being a role model, by people seeing you perform, by people looking at your own personal life," says Rev. Matale.
Her position at CCZ meant Rev Matale also became one of the convenors of the Oasis Forum, an umbrella body of church mother bodies, the women's movement and the law association. In addition to her demanding schedule as at CCZ, Rev. Matale also had to perform her responsibilities as a Pastor at the African Methodist Episcopal Church (AMEC), where she had to conduct Sunday and midweek services, conduct counselling services and officiate at baptisms, weddings, funerals and other events. She also had to find time to take care of her family, a matter of "more than just cooking nshima".
"There are some people who thought I would not make a good leader for such a big organisation but I was able to overcome that and challenge all those perceptions. I was able to overcome those by my own attitude," said Rev. Matale.
Going into retirement, Rev. Matale is leaving her office at CCZ, but she is not leaving her commitment to promoting justice and fairness.
"Issues of justice, issues of fairness, issues of the poor, issues of dignity are issues that are buried in my spirit. Even though I leave CCZ, I carry with me these principles, values and beliefs. All human beings deserve justice, and that is what I carry from here," she emphasised.
Although she "tried to mentor women by training them and ensuring that there are training sessions for women", Rev. Matale believes on many occasions she found herself too busy to assist fellow women. This is an area she plans to address as she goes into retirement.
"I think we need more work in that area. Given a chance to do something differently, I would commit more time to personally mentoring young women. That is one thing I have not deliberately done, other than being a role model to young people, which is okay because it's also important.," she said.
While she discourages "looking at different genders", Rev. Matale says women need more support to take up leadership. She is however quick to warn that success will not come on a silver platter. In addition to having positive attitude and being ready to challenge stereotypes, Rev. Matale says women leaders need to work hard.
"Hard work is important," she says. "If you are leading an institution, you cannot afford to relax. You cannot afford to give opportunities to chance. It is not a luxury to be a leader although it appears so. It comes at a cost. A leader must work hard, and leave no stone unturned in dealing with issues…be patient, take one day at a time, not to be in a hurry to succeed, not to take short cuts. Always stay above board because ultimately you are responsible for the make or break of an institution."
Regardless of how much work they have, Rev. Matale says women in leadership need to create time to mentor fellow women.
"As a leader, there is so much competition for your time, and sometimes you get carried away with those responsibilities, and not paying attention to dedicatedly bringing up other women. If I had another opportunity, I would make that part of my business," she says.
Going into retirement, Matale is a proud woman. "I think my life has been slow, but focused and resolved. I believe that I have achieved. I am leaving this place a very happy woman."
Rev Matale is out of CCZ but is not downing her tools fighting for women and the poor. She hopes more women will follow the trail that she has blazed.
ENDS//
*The author is Panos Institute Southern Africa (PSAf) Regional Manager for Communication and Knowledge Management.