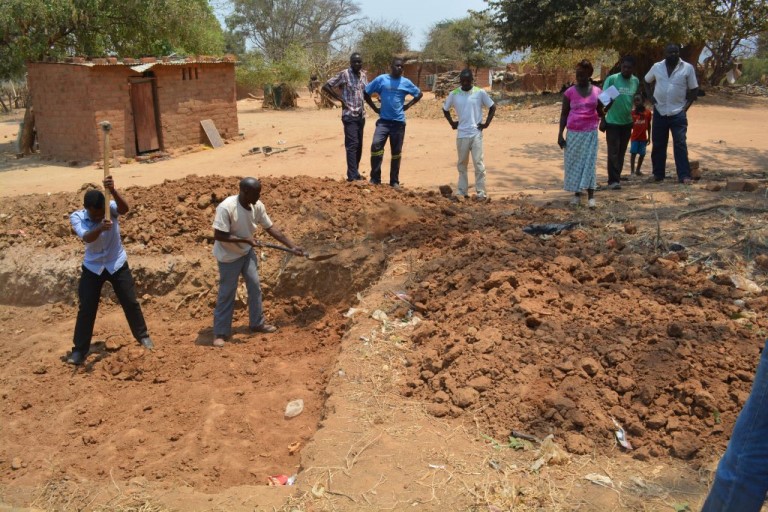 Panos supports community members to adopt fish farming
Sinazongwe, 04 October 2017: Realizing the far-reaching threats presented by fish depletion in water bodies like lakes and rivers, Panos Institute Southern Africa has supported the community members along the Zambezi Valley to adopt fish farming as one of the solutions.
So far, communities in areas such as Nzenga, Miziyo, Twigashane, Lunkantamo, Nambisa, Malima, Mwezya, Mweka and Donga in Sinazongwe district, Mambova, Sinde, Chikuyu and Libala in Kazungula district have started the construction of fish ponds. This is part of the Deepening Communiy Based Natural Resources Management (CBNRM) in Zambia project, which Panos is implementing with support from Finland Ministry for Foreign Affairs under the Civil Society Environment Fund Phase 2 (CSEF 2).
Panos is working with the local fisheries departments and experts to support the communities to adopt fish farming to meet the demand for fish for local consumption and for sale. The success of fish farming will make a big difference in these two districts where livelihoods for the majority of community members revolve around fishing. This will also reduce the pressure on Lake Kariba and the Zambezi River which have experienced significant declines in capture fish outputs.
The fishing communities and experts have attributed this nosedive in fishing output to several factors, including unsustainable practices such as Kutumpula (hammering), Chikukula (basket fishing) and the use of mosquito nets. The drastic decline has also been attributed, to some extent, to the influx of invasive species like crayfish which prey on other fish species.
Through Panos support, the community members have started designing and constructing fish ponds, with the aim of having the ponds in
place before the onset of the rainy season. In Sinazongwe, some community members in places like Nzenga Fishing Village have also approached the government for support in procuring and setting up cages for fish farming in Lake Kariba.
In addition to the start-up actions towards fish farming, community members have taken it upon themselves to police fishing in the Zambezi and Lake Kariba. Among other interventions, the community members have put in place systems to stop fishing in breeding areas. Panos also supports the community members to share information through radio and through community action groups, ensuring all community members are fully engaged in the efforts to address fish depletion.