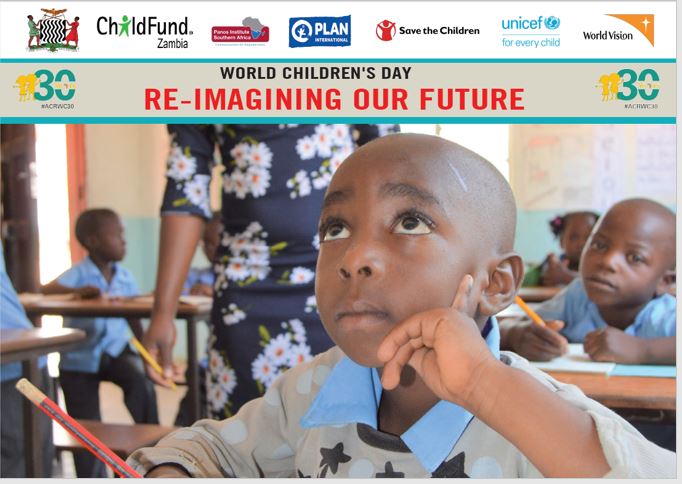 Panos, partners organize provincial children's symposiums
Lusaka, 11 November 2020. Ahead of the commemoration of World Children's Day on 20 November 2020, Panos Institute Southern Africa (PSAf) has partnered with 20 Zambian Civil Society Organisations to organize Provincial Children's Symposiums aimed at facilitating dialogue between children and duty bearers.
The Provincial Children's Symposiums will be held in each of the country's ten provinces on 13th November 2020, under the theme "Re-imagining Our Future". The provincial symposiums have been designed to provide a platform for children and young people to construct a future which they want in the post COVID-19 period.
The symposiums are being held at a time the COVID-19 pandemic has affected all nations and all sectors differently. The devastating effects of COVID-19 are still weighing down world economies, overburdening health care systems, disrupting the food supply chains and education systems. COVID-19 has unfortunately been a threat on both human life and the life of other organisms that exist because of the human beings.
While everyone has been negatively affected by the COVID-19, children are hardest hit by the pandemic. This is because children occupy more than 1.9 billion of the world's population and of the 1.9 billion, majority of the children live in developing countries, have limited or no access to proper health care systems and they also have compromised nutrition.
For this reason, PSAf reiterates the important need for all governments and stakeholders working to improve and promote the rights of children in Africa and the world at large to invest in reconstructing and painting a future that will give hope and determination to the children. This process should involve children as equal stakeholders with equal influence and equal voice. No decision about children should be made without the children.
PSAf is of the view that for the "Re-imagining our future" theme to become a reality in the post covid-19 pandemic period, children must be fully involved in processes and issues that affect them.
Before, during and after the Children's Symposiums, PSAf and partners will work with community, online and mainstream media actors to raise public awareness about children's rights, and share information that will be used to create safe spaces for children and young people to express themselves and demand their rights.
We are confident that the symposiums will result in increased interface between children and duty bearers, increased media coverage on the future which children want in the post – pandemic period and a children's communique based on their imagination of the future they want in the post-pandemic period which will also inform the focus of the National Children's Symposium which shall be held in Muchinga Province on 20th November alongside the commemorations for the World Children's Day.
PSAf, through support from Save the Children and in collaboration with World Vision and the Ministry of Youth, Sports and Child Development Zambia will be leading the Provincial Children's Symposium in Northern Province while Save the Children International, Plan International, Child Fund, SOS Children's Village, Civil Society for Poverty Reduction (CSPR), Media Network on Child Rights Development (MNCRD), Zambia Civic Education Association (ZCEA), Kid's Alive, Mary's Meals, Jesuit Center for Theological (JCTR), Advocacy for Children Justice (ACJ), Center for Trade Policy and Development (CTPD), Restless Development, Environment Africa, Childline Lifeline Zambia, Caritas Zambia, SafAids and Action Aid Zambia will be leading the Symposiums in other Provinces.
Issued by:
Vusumuzi Sifile
Executive Director, Panos Institute Southern Africa
Email: vusa@panos.org.zm