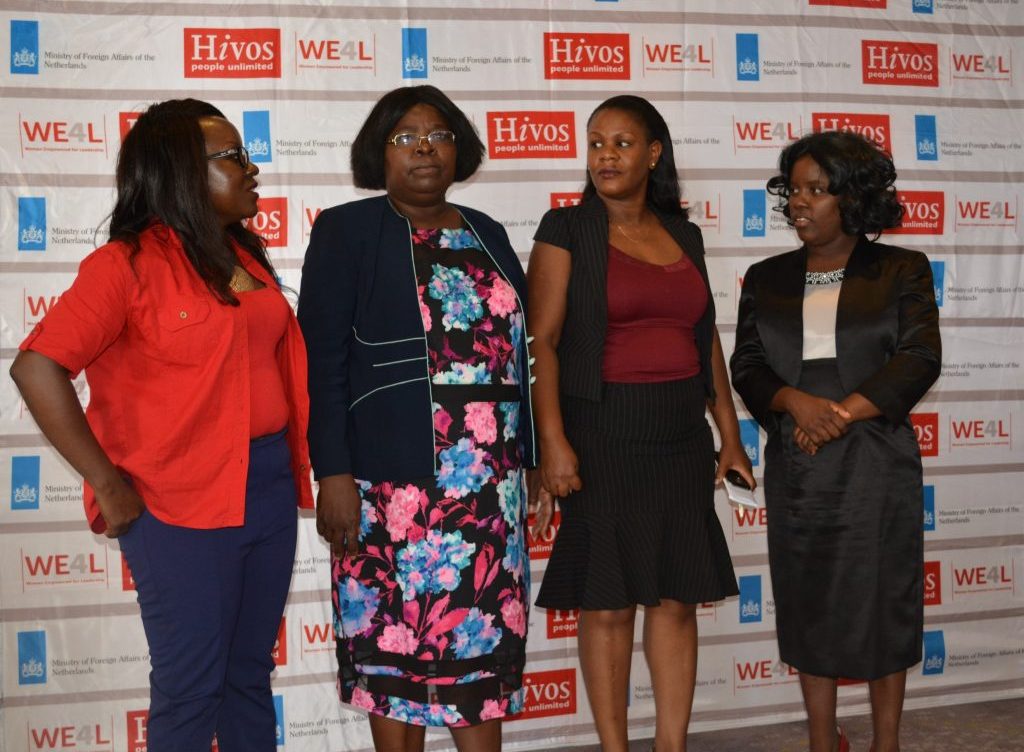 Joint Communique Issued by Women Empowered for Leadership (WE4L) Zambia Partners on interface with Finance Minister
Lusaka, 3 April 2018:
We, the partners in the Women Empowered for Leadership (WE4L) project in Zambia have noted the positive commitments by the government to address the high cost of living and consequently reduce poverty levels which have continued to wear a female face, thereby excluding women from participating and benefiting from the development processes.
During a breakfast meeting on Monday, 26th March 2018, Minister of Finance Hon. Margaret Mwanakatwe reaffirmed government's commitment to gender responsive budgeting and putting in place measures to ensure that women are economically empowered.
Zambia is a signatory to various international protocols on gender and development. These include the Beijing Platform for Action, SADC Gender Protocol, the African Union Protocol on Gender, and the Convention on the Elimination of all forms of Discrimination Against Women (CEDAW). However, we bemoan the slow pace of domesticating these conventions and the delayed implementation of the legal framework such as the Gender Equity and Equality Act (No. 22 of 2015). As a result, women in Zambia have over the years remained marginalized, as evidenced by their low representation and participation in decision making positions.
We note the commitments that were made by the Minister of Finance during the breakfast meeting with on 26th March 2018 which include the following;
i. Reaffirming the government's commitment to the attainment of the SADC Protocol on Gender and Development;
ii. Development of a gender monitoring and evaluation system;
iii. Ensuring all institutions have a policy against sexual harassment as a hindrance to women's participation in leadership;
iv. Providing mentorship to aspiring young women leaders, especially those in tertiary institutions;
v. Budget allocation for the economic empowerment of women under the Ministry of Gender and Ministry of Community Development;
vi. Budget allocation to the operationalization of the Gender Equity and Equality Act;
As Women Empowered for Leadership (WE4L) Zambia Partners we do not doubt the Minister's sincerity. However, we will constantly follow up with the minister to ensure that these pronouncements are actualized for gender equity and equality.
In view of the aforementioned we urge the government to consider the following;
i. To implement the budget provisions relating to the provision of sanitary towels in schools;
ii. To facilitate the appointment of more women to leadership positions in parastatals and other state-owned enterprises;
iii. To put in place a quota system to ensure that a minimum number of key decision-making positions in public administration are held by women;
iv. To put in place measures compelling all public institutions to have policy provisions against sexual harassment;
We remain committed to support all current and aspiring women leaders in Zambia. We stand ready to play our part in addressing inequality and other challenges that are hindering women from participating in leadership and decision making processes. We call on stakeholders in civil society, the government, the media and the private sector to work together to advance the participation of women in leadership and attainment of gender equality.
Issued in Lusaka by the following heads of the WE4L Zambia project partner institutions:
i. Engwase Mwale, Executive Director, Non-Governmental Organisations Coordinating Council (NGOCC);
ii. Juliet Chibuta, Executive Director Zambia National Women's Lobby
iii. Lilian Kiefer, Executive Director, Panos Institute Southern Africa
iv. Helen Bryer Country Director, Restless Development Zambia
v. Ketty Simasiku, Project Manager, Women Empowerment Zambia, Hivos Southern Africa
Notes for Editors:
The Women Empowered for Leadership project is an initiative supported by the Humanist Institute for Development (Hivos) through funding from the Dutch Ministry of Foreign Affairs. The project advocates for increased participation of women in leadership, for women to have equal opportunities and the capacity to fully participate in political and societal decision-making processes. In Zambia, the project is being implemented by Panos Institute Southern Africa (PSAf), Non-Governmental Organisations Coordinating Council (NGOCC), Zambia National Women's Lobby (ZNWL) and Restless Development. More information on the global project can be accessed on https://womeninleadership.hivos.org/. For more information or to arrange for interviews, contact the WE4L information team using the following email addresses: vchandaengerwa@hivos.org, vusa@panos.org.zm or whitney.mulobela@ngocc.org.zm.
For a PDF version of this communique, visit this link